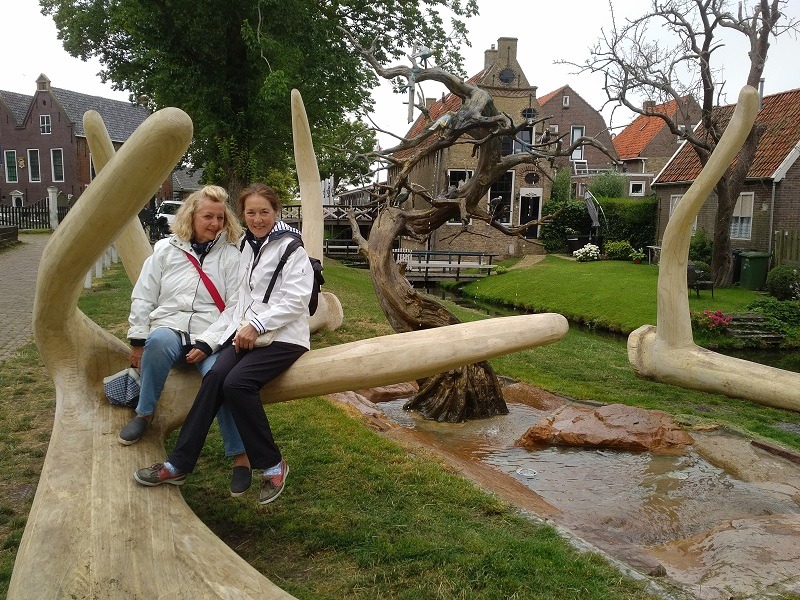 It is always a pleasure to cruise around Friesland in Lady Martina as the flat landscapes and peat or turf-digging heritage share so much in common with our home in the Norfolk Broads. Since the last update, we have visited Workum, Makkum and Hinderloopen on the Friese IJsselmeer coast and we are this day setting off for Enkhuisen on our way back south. The crew aboard Lady Martina have enjoyed this long cruise with Ikon through the familiar waters of The Netherlands, but we are now ready to go home to our families, our Horning riverside home, Blackrow Plantation forest and the start of Norwich City's new football season in the Premier League! The news from Yanmar engine experts, Van Enjhuizen in Makkum, with regard to Ikon's engines was not good and they will have to return next week as Lady Martina cruises on. We will head for Amsterdam and time our passage back to England according to the calm weather windows which now looks like the 16th/17th of July. You can see  Lady Martina Schedule of Voyages 2019 for day-by-day news of her latest adventures.
Our movements are still visible on the public AIS (Automatic Identification System) site free of charge. For our ever changing location  see Lady Martina's AIS position  
For information on the Broom Owners Club visit www.broomowners.com, and for information on the 'Inland Waterways of the Netherlands' (available this year as a 2nd Edition), visit www.dutchwaterways.net. For more information about David's life and times, visit http://www.davidabroad.com/ and on the Cruising Association (for which David remains as its Honorary Local Representative for Great Yarmouth, Lowestoft and The Broads) visit www.cruising.org.uk 
If you have been, thanks for reading :-)
May you always have Fair Winds and Favourable Tides ...
Lady Martina, Terherne, Friesland  Thursday 4th July 2019