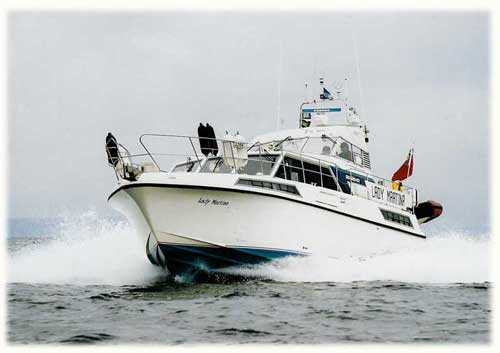 Broom Boats OCEAN 42: Build No 036, July 1989; Twin Bridge and Saloon Helms
Registered "Lady Martina" Great Yarmouth No 717781 (formerly "Princess Tanya")
Displacement 22.73 tons (64.33m3) Actual weight 14 tons
Length 42ft 2ins (12.86m); Draught 4ft 3ins (1.3m); Beam 14ft 0ins (4.05m)
Engines Twin Volvo TAMD61A deisel; (2 x 306HP) (=456.55Kw @ ¾ HP) with CQR 4-bladed propellors, each with its own fuel tanks, batteries and controls
Fuel Capacity 2 x 150 gals (2 x 682 = 1364 litres); Water tank 145 gals (660 litres)
Speed/Endurance: 20Kn max; 680nm@ 8Kns; (5ltrs/nm); 220nm@ 16Kn (6.2ltrs/nm)
Air Draft; Min 10ft 4ins (3.15m); Windscreens up 11ft 2ins (3.41m); Winch 11ft 7ins (3.54m); Flag Staff Height 12ft 2ins (3.71m); Canopy Height 12ft 0ins (3.67m); Mast Light 16ft 11ins (5.15m); VHF Aerials 21ft 9ins (6.65m); Radio Aerial c20ft); (Port VHF Aerial 20ft 0.5ins, 6.11m ; Starboard VHF Aerial 21ft 8.25ins, 6.0m
Outside: Complete Pulpit and Pushpit safety rails with inbuilt Fender stowage baskets. Two external stowage lockers for ropes and aids. Three canopy configurations; standard, with rear porch and with total Bimini sun shelters
Cruising Aids: Triple variable speed controlled wash/wipe windscreen wipers, Sleipner Sidepower 5.3Kw Bow Thruster; Bennet V351 Trim Tabs; telescopic 'Yacht Legs' for drying out, side access and aft bathing platform and ladders. 3.1m RIB Tender with 4-stroke engine on dual electric/manually-operated Davits for shore access, Loframs Tigres 1000w Anchor winch and mud weight plus main and kedge anchors. Forward remote controlled Searchlight and Bridge/deck loud hailer system. 
Navigation Aids and Instrumentation: Echo depth sounders plus Interphase Probe Forward Sonar, Raymarine RayNAv500 GPS 'plotter' and Autopilot, MLR FX-312 GPS 'plotter, MLR SP24XC handheld GPS, Yeoman Navigator Pro Plotter; Dedicated Vasari Technology MF4300 solid state fanless fixed computer operating alternatively MaxSea Time Zero software and Meridian Chartware SeaTrak software connected to 15" high visibility Bridge Monitor Screen and bulkhead mouse; Twin Foruno 1900 Marine radar displays, Windmaster Ultrasonic Wind Vane, 
Communication and Safety: Traditional 'Sailor' and modern ICOM IC-MC601 DSC and Fixed VHF radio sets, IC-M3 Handhelf VHF, Nav6a NavTex Receiver/Printer, Twin Seafire automatic engine room fire extinquishers and automatic bilge pumps plus bronze high-capacity Clutch Pump for emergencies, galley fire blankets and hand held units. NewLec bilge heaters
Accomodation: Three Sleeping Cabins, Saloon, Galley, Halls, large upper Bridge, aft sun deck and two toilet/showers
Electrical Power: 24v DC system (also 12v by regulator) and 230vAC for two galley and saloon fridges, microwave, air-conditoning, Bendix washing machine, ring main, Dimplex heated towel rails in two toilets/showers, kettle and toaster powered via 3000w Victron Multi-Plus Charger/Inverter served by 350Ah AGF domestic batteries, on-board generator and/or shore power
Domestic,  Gas & Heating: Calor 4x4.5KG Propane; for oven and 4 burner ring, remote electric Gas solenoid; Webasto AT 5000D 5Kw diesel heating to all cabins; HFL 24,000 BthU Coolmax Air Conditioning to Saloon and Master Cabin (with reverse mode heating), Holding tank for 2 toilets; Mosquito nets to windows, Bright but dimmable LED interior lighting.