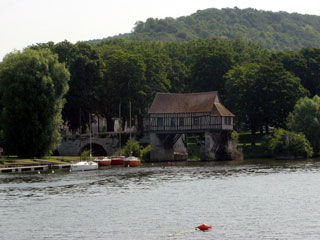 After a lay day for shopping and sightseeing in Les Andelys we were back on our way this morning, with a destination of Limay, some 50km upstream. After a straightforward passage through the lock at Notre Dame de la Garenne, we opted to stop at the yacht club at Vernonnet. Although the moorings were shallow we found a space alongside a Dutch pleasure barge. From here we could make the 20 minute bike ride to nearby Giverny to visit the Claude Monet Foundation. The site of Monet's house and garden, including the famous water lily pond is now rather over-commercialised, with streams of coach parties arriving and security guards at every doorway. At €5.50 it is still worth a visit though, even if you are not mad keen on gardening or painting. By 1430 we were back on the river, glad for the breeze on another gloriously hot, sunny day.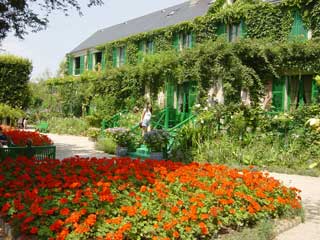 At Merricourt, we had our next exciting lock experience. With not a barge in sight we were first into the lock, but even on our boat the staged bollards were too far apart for us to tie up forward and aft. Meanwhile, a convoy pusher had come roaring up behind us, and the crew found our antics highly amusing as we tied ourselves up in knots trying to attach some part of the boat to the lock. Being at the front of the lock, we also found that what had seemed a very gentle fill when at the back of the lock, was quite a torrent when you were near the gates, and it was all we could do to keep the boat under control.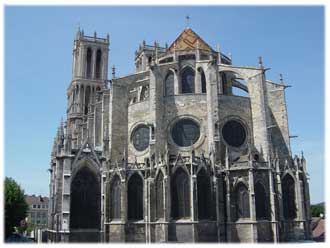 We were heading for the halte nautique at Limay, in order to visit Mantes la Jolie on the opposite side of the river. The official halte is a rather lonely pontoon right next to a road bridge and it looked rather abandoned and noisy. However, just downstream we spied Marines de Limay, listed in the Navicarte as a shipyard and yacht harbour. Rather a grand title for the wobbly pontoons and odd collection of boats gathered here, but there was water and electricity for the bargain price of €7.50 so we were happy.
Cruising Statistics
Distance: 34 nm
Total to date: 1557 nm
Avg Speed: 5 knots
Duration: 6 hours
Diesel: 102 litres (est)
Mooring: €7.50
Electricity: Free
Bridges

Pt de Port Morin
Pt de Courcelles
Pt de Vernon
Pt de Bonnieres
Locks
Notre Dame de la Garenne
Mericourt
Min headroom: 7m
Min draught: 4m

Charts
Navicarte 1